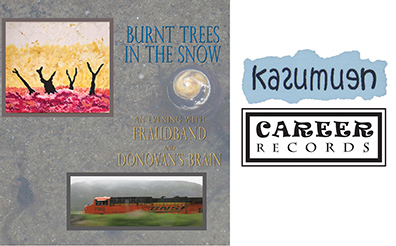 Burnt Trees In The Snow, a new joint release by Fraudband via Kasumuen (Oz) and Donovan's Brain via Career Records (US) is now available for pre-order.
This ten song split album features one side apiece, five songs from each band.
Fraudband hails from Melbourne Australia. They bring a guitar and drum instrumental sound to the proceedings. The results landing somewhere around planet Sonic Youth aboard the good ship Link Wray. Montana's Donovan's Brain delivers their Technicolor brand of Paisley Pop jangle finished with Abbey Road textures and West Coast guitar sounds. The results are an appealing contrast.
This limited edition vinyl only release includes a download card with six bonus tracks. Fraudband offer up three live recordings, while Donovan's Brain contributed three outtakes from the Convolutions Of The Brain box set.
Order from the Career Records Shop
or for Australian and Asian customers…
Kasumuen Records www.kasumuen.com.au/
Kasumuen ships from Australia. Career Records ships from USA
Street date is August 21st