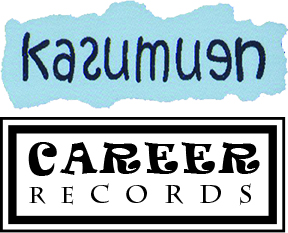 Kasumuen Records Australia and Career Records USA are excited to annonunce a trans-Pacific collaboration. These two forward looking labels will be working together on selected releases which will carry both the Career and Kasumuen name. These releases will be available in Australia and the US via the labels and their respective networks, as well as in Europe and Asia via distributors.
Career Records was founded in 2002 by Ron Sanchez and Deniz Tek as an outlet for their music, productions and selected artists. Its artist roster includes: Deniz Tek, Donovan's Brain, Roy Loney And The Long Shots, The Nomads, Penny Ikinger, Angie Pepper, Scott Morgan and The Plaintiffs.
Kasumuen Records was founded in 2014 with a similar outlook. Its artist releases include: The Sand Pebbles, Xylouris/White. Fraudband. Baby 8, New Rock Syndicate, Paul Kidney Experience and Powerline Sneakers
The first Career-Kasumuen (or Kasumuen-Career, which ever sounds best) release will be a Donovan's Brain – Fraudband split album. Vinyl only, it features five new songs by each band plus additional unreleased material via download card included.
Release date is penciled in for August 16th 2019, with two more co-releases scheduled, details to be announced when finalised.