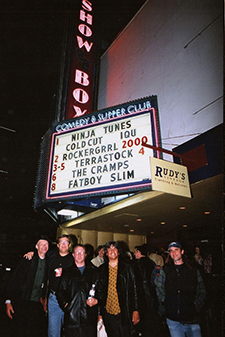 Work on the Donovan's Brain Box Set, Convolutions Of The Brain, is now nearly complete. One song is awaiting a new bass part. Four others are scheduled for remixing. The 48 song, three CD set contains four hours of music. The centerpiece of the set are 13 Terrastock Rehearsal performances recorded in the studio with Richard Treece. There will be 23 Treece performances spread over the three discs, over two hours of rare and unreleased songs featuring his amazing guitar.
Convolutions gathers up all the Brain compilation and tribute tracks, 10 film soundtracks songs, and 11 never before released pieces. Three priviously released album tracks have got new mixes. Joey's In The Pouch will appear twice each featuring a unique Richard Teece guitar solo not heard on the original release.
Deniz Tek is heard on nine songs, including a live in the studio Brain version of the Radio Birdman tune More Fun. Dave Walker, Ken Whaley and Malcolm Morley also make major appearences.
You will find complete details on the Convolutions Of The Brain page. Jump Here
The set is scheduled to be released on September 1st, 2017.