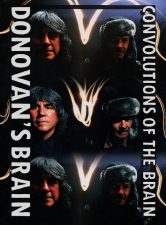 ****Out May 14, 2018*****
18 months after work began, the second Donovan's Brain archive set is now complete. The deluxe packaging design was delivered last week, approved and sent to press.
3 discs, 4 hours of music, 49 songs, a 20 page full color booklet housed in a deluxe DVD size cover. Rare phtos, original Richard Treece art and an essay by Malcolm Morley. This set is limited to 500 copies. More track information can be found on the Convolutions Page.
Convolutions Of The Brain 1991 – 2016 was conceived as a tribute to Richard Treece. The centerpiece of the set is the complete Terrastock Rehearsals with Richard. Recorded live in the studio on 16 track analog tape for historical purposes, it was determined these performances were sutible for release. All newly mixed and mastered. Several other unreleased tracks, Terrastock extras, and rare tracks are also included. The set is rounded out with unreleased recordings, rare compilation tracks, live recordings and film music. Most tracks have been remixed for this set and all mastered by Gary Hobish for this release. The cast includes Deniz Tek, Malcoplm Morley, Ken Whaley, Dave Walker, Bobby Sutliff, Ric Parnell, Tom Stevens and Scott Sutherland.
Pre-orders are now available at the Career Records Shop. Career is also offering 3 specially priced bundles, collecting other Donovan's Brain Career releases, vinyl and CD. These bundles are being offered for a limited time.
The new Deniz Tek album, Lost For Words is also now in the production pipeline and set for September 1st release.